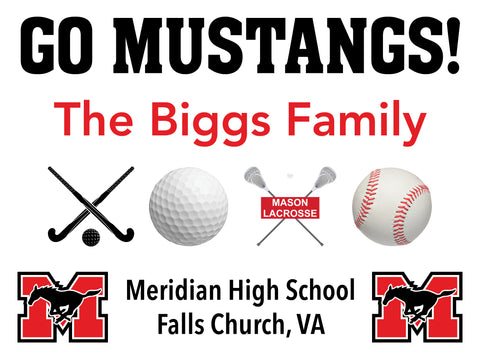 Spirit Sign - Family
---
18" x 24" corrugated sign customized with your player or your family name.
Fall 2023 Order Deadlines: 
Wed., August 16, 2023

Wed., September 6, 2023

Winter 2023 Order Deadlines:
Wed., November 29, 2023
Wed., December 6, 2023
Spring 2024 Order Deadlines:
Wed., March 6, 2024
Wed., March 20, 2024
Signs will be posted to the Meridian HS athletic field fences well as inside the Mustang Gym according to sport. All proceeds benefit the Mustang Athletic Boosters Association.

We are also offering a new location this year for our signs - your HOME.  Bring the spirit of Meridian Athletics into your home.  Hang a sign on the wall of your athlete's room OR place it in the yard (with yard stakes included).  
For those signs that are posted at MHS, the Mustang ABA will keep each sign purchased (in order to re-hang them) from season to season and year to year as long as the signs survive the elements.  Once your athlete graduates, your sign will be returned to you.
Symbols for the following sports are currently available: Baseball, Basketball, Cheerleading, Cross Country, Field Hockey, Football, Golf, Gymnastics, Lacrosse, Soccer, Softball, Sports Medicine, Swim, Tennis, Track, Volleyball, and Wrestling.
Let's Go Mustangs!
---
---
We Also Recommend